RACE PhD Student Cohort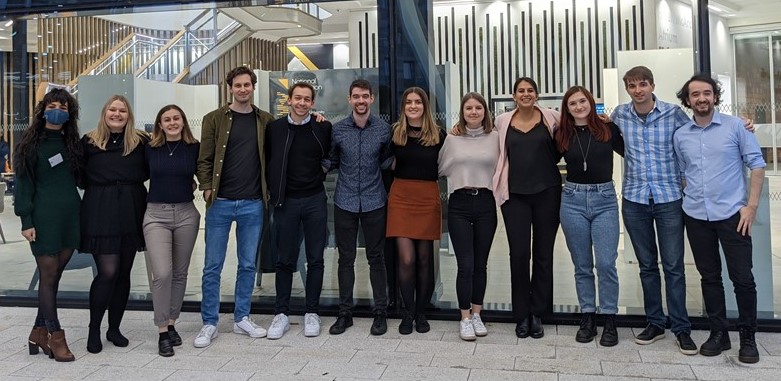 Kate Barney

RACE student since 2020

Project title: Functional consequences of the capture of IgA immune complexes by FcRL4+ B-cells

‌‌
Kate graduated from the University of Sheffield with a degree in Biomedical Sciences with a Year in Industry. She is supervised by Dagmar Scheel-Toellner and Karim Raza at Birmingham University and co-supervised by Amy Anderson and John Issacs at Newcastle University. Kate will be investigating the functional consequences of IgA capture in FcRL4+ cells in rheumatoid arthritis to understand the cells antigen presenting capabilities and their consequential interactions with T cells to over activate the immune system.

Daniel Beckers

RACE student since 2020

Project Title: Defining the key tolDC derived signals involved in inducing T-cell tolerance

‌‌
Daniel graduated from University of Warwick with a BSc in Biochemistry before then studying an MSc in Immunology at the University of Oxford. During his MSc he studied the biophysical characteristics of membrane models used to reconstitute immune signalling at the plasma membrane in a simplified but controllable fashion. Daniel has now joined Michael Dustin's lab at the Kennedy Institute of Rheumatology under co-supervision by Catharien Hilkens from Newcastle University. During his PhD Daniel aims to use model membranes to better elucidate the key signalling mechanisms tolDCs employ to induce T-cell tolerance, a crucial interaction that prevents aberrant inflammatory responses towards self antigen otherwise common in many autoimmune diseases.

Bogan Didov

RACE student since 2020

Project title: Investigating epigenetic suppression of anti-inflammatory metabolic pathways in the rheumatoid myeloid compartment

Bogdan graduated from the University of Aberdeen with an MSc in Biotechnology, specialising in Epigenetics and Biochemistry. During his industrial placement year at GlaxoSmithKline he worked in a department focused on immuno-inflammation where he was tasked with the development of a model for human Th17 cell in vitro differentiation. Bogdan is now supervised by Carl Goodyear in Glasgow, and co-supervised by Kim Midwood in Oxford. He is looking at the epigenetic suppression of anti-inflammatory metabolic pathways in rheumatoid patient myeloid cells. This is with particular focus on the impact that the RA-associated DAMP tenascin-C has on the itaconate anti-inflammatory pathway.

Annabelle Ferguson

RACE student since 2020

Project title: Investigating the importance of intestinal inflammation in seronegative arthritis

Annabelle graduated from the University of Glasgow in 2020 with an Honours Degree in Immunology. She is supervised by Simon Milling and Stefan Siebert in Glasgow, Catharien Hilkens in Newcastle, and Paul Bowness in Oxford. Her project aims to understand interactions between the intestinal immune system and systemic pathology in people with seronegative arthritis. She aims initially to investigate the effects of HLA-B27 on mucus secretion by goblet cells, and the roles of regulatory T cells in the intestine of people with ankylosing spondylitis.

Jack Glendinning

RACE student since 2020

Project Title: Bcl-3 as a mediator of immune dysregulation in CD4+ T-cells of early rheumatoid arthritis

Jack graduated from the University of Birmingham with an MSc in Immunology and Immunotherapy and then worked as a lab technician at a phase 1 clinical trial research centre for the pharmaceutical company Covance.

He is now undertaking a PhD under the supervision of Dr Arthur Pratt, Dr Ruaidhri Carmody and Dr Amy Anderson looking into a potential new therapeutic target for rheumatoid arthritis called Bcl-3, which is present at high levels in certain immune cells of the blood during the earliest stage of the disease.

At the University of Glasgow, he will begin to investigate the function of this molecule in detail, first developing a new experimental technique to enable its levels to be controlled in human immune cells. Jack will continue this work at Newcastle University, where he will explore how different Bcl-3 levels in these cells might "programme" them to cause disease. In parallel Jack will measure Bcl-3 in the joint lining of patients with early stage rheumatoid arthritis compared with other types of arthritis. Investigating these areas will inform whether Bcl-3 inhibition by drugs might help to treat rheumatoid arthritis.

Olympia Hardy

RACE student since 2021

Project title: Develop computational methods to identify the evolution of cell-cell interactions in rheumatoid arthritis and psoriatic arthritis using single cell

‌‌

Olympia graduated from University of Southampton with a degree in Biomedical Science before undertaking a MSc in Bioinformatics at University of Glasgow in 2019. She then worked as a bioinformatician focusing on the immune response in COVID-19.

Her RACE PhD project will aim to utilise bioinformatics to analyse single cell RNA sequencing data to elucidate the evolution of cell-cell interactions that may play a key role in early disease onset to late-stage rheumatoid (RA) and psoriatic arthritis (PsA). She will be supervised by Drs. Thomas Otto, Mariola Kurowska-Stolarska, Stefano Alivernini and Professor Mark Cole.

At the University of Glasgow, she will investigate how macrophages and fibroblasts interact with each other to potentially drive pathogenesis and disease progression of the two arthropathies, a mechanism yet to be delineated in psoriatic arthritis. During her time at Oxford, she will have the opportunity to model cell-cell interactions to gain insight on potential mechanisms between these two key cell drivers.

Emma Jackson

RACE student since 2020

Project title: Biomaterial-based therapeutics for in vivo induction of tolerogenic dendritic cells (BioTol)

‌
Emma graduated from Newcastle University in 2020 with a 1st class degree in Biomedical Sciences. The goal of her RACE2 PhD project is to develop a novel immunotherapeutic tool that will restore immune tolerance in rheumatoid arthritis patients. To this aim she will engineer and test a biomaterial-based 'scaffold' that upon injection will form a protected space, in which dendritic cells can be reprogrammed to become tolerogenic. Emma will be supervised by Catharien Hilkens and Katarina Novakovic (Newcastle University) and James Brewer and Paul Garside (University of Glasgow).

Luke Jones

RACE student since 2021

Project title: BioFlare: Identifying the cellular basis of flare in synovial tissue

‌‌

Luke graduated from Aberystwyth University in 2019, with a first-class degree BSc in Biology. After graduating, he spent two years working for a biotechnology company to discover therapeutically useful antibodies.

Anti-rheumatic drugs suppress the immune system which may cause side effects and are costly to the healthcare services. Increasingly, studies into treatment tapering suggest that drug-induced remission will continue in only around 50% of patients. Luke's project will use exciting, cutting-edge techniques to characterise cells and molecules within the joint that may predict which patients will experience disease remission, or flare, when medication is stopped. This work aims to inform clinical decision-making, allowing rheumatologists and patients to make better treatment decisions. Through this work, the molecular mechanisms which determine remission and flare, will also be better understood. He is supervised by Dr Andrew Filer in Birmingham, Dr Arthur Pratt in Newcastle, and Dr Mariola Kurowska-Stolarska in Glasgow.

Chloe Lockwood

RACE student since 2021

Project title: Investigating the anti-inflammatory effects of glucocorticoids on the metabolism of synovial macrophages in rheumatoid arthritis

‌‌

Chloe graduated from the University of Kent with a BSc (Hons) in Biomedical Sciences. As part of her degree, Chloe undertook a placement year at GlaxoSmithKline where she developed suppression assays utilising tolerogenic dendritic cells and T-regulatory cells. Now she is undertaking her PhD at the University of Birmingham supervised by Professor Andy Clark and Dr Sally Clayton (a former RACE PhD student), and co-supervised by Dr Mariola Kurowska-Stolarska at the University of Glasgow.

Chloe's project explores a novel mechanism contributing to the anti-inflammatory actions of glucocorticoids like prednisolone. She will investigate how glucocorticoids disrupt the supply of fuel to macrophages in the joints, preventing them from carrying out their destructive activities. As part of her project, Chloe will spend some time in Glasgow, learning from Mariola Kurowska-Stolarska how to study effects of glucocorticoids at the level of single cells.

Lucy MacDonald

RACE student since 2018

Project title: Mechanisms of joint immune-homeostasis: a role for synovial tissue macrophages

‌‌

Lucy's RACE PhD project focuses on using single cell RNA sequencing to study the role of synovial tissue macrophages in pathology and resolution of Rheumatoid Arthritis (RA). Generally, Lucy is interested in the role of the innate immune system in inflammatory disease and is particularly fascinated by macrophages – a family of immune-cells responsible for detecting and destroying pathogens and dying cells. It has been previously shown that these cells reside in the synovial tissue of the joint and are notorious for their involvement in rheumatoid arthritis (RA). However, their role in the normal maintenance of the synovial tissue is not well known.

Lucy is also a MSc Bioinformatics graduate and has a keen interest in computational biology and programming. Lucy has applied these skills to her PhD research, allowing her to look at gene activation within each individual cell in the synovial tissue. This analysis has allowed the team to identify different families of synovial macrophage with diverse roles in the tissue.

In addition, it has also been determined how their genetic profile changes upon the onset of RA or in sustained clinical remission – offering great potential for the development of new treatments for RA which could nicely complement and enhance the effect of current therapies. This work is published in Nature.

Lucy's lovely granny, Jean, had RA and her memory motivates Lucy to always try her best. "I have thoroughly enjoyed my time as a RACE PhD student. The PhD programme has not only allowed me to develop my skills as a scientist but has also given me countless opportunities to present my work at meetings and grow as an individual'."

Jean-Baptiste Richard

RACE student since 2020

Project title: Using changes in the synovial microenvironment to define disease progression and treatment response in rheumatoid arthritis

‌‌
Jean-Baptiste graduated from Imperial College London with a BSc in Biology in 2019. During that time, he worked for a year as a research associate within the Immunology and Inflammation department of Pfizer Inc. in Cambridge, Massachusetts. He then graduated with a distinction from the University of Oxford with an MSc in Integrated Immunology in 2020. Jean-Baptiste is now based at the Kennedy Institute of Rheumatology in Oxford, supervised by Kim Midwood and Christopher Buckley. His PhD project will define how changes in the composition and organization of the extracellular matrix in the synovium of people with rheumatoid arthritis contribute to chronic inflammation. Using a combination of bioinformatic and wet-lab approaches, the goal is to reveal novel mechanisms underlying disease progression and to better understand treatment response.

Julia Salafranca Gomez

RACE student since 2021

Project title: Molecular regulation of neutrophil responses in inflammation

‌‌

Julia graduated from the University of Glasgow with an MSci in Immunology. During her placement year at the VIB institute - University of Gent she studied the gut-joint axis in spondyloarthritis (SpA). More specifically, she focused on the role of innate-like T cells in the pathology of SpA, and the successful optimization of a mouse model that better mimicked the IL-23/IL-17 axis in SpA. Her Honours project aimed to improve the clinical diagnosis of patients with septic arthritis by using their blood transcriptome as a biomarker.

Julia is now undertaking a PhD at the Kennedy Institute of Rheumatology in Oxford, under the supervision of Professor Irina Udalova and Dr Erinke van Grinsven. Her project consists of the molecular regulation of neutrophils in inflammation, with a focus on rheumatoid arthritis. As neutrophils contribute to inflammation in rheumatoid arthritis, she aims to study the transcription factors involved in their differentiation and effector functions and identify new therapeutic targets.

Imogen Wilson

RACE student since 2021

Project title: Investigating the functional consequences of B-cell and rheumatoid arthritis synovial fibroblast interactions: Does CD97 play a role?

‌‌

Imogen graduated from Newcastle University in 2018 with a BSc (Hons) degree in Biomedical Sciences. She worked as RACE Research Technician in the Musculoskeletal Group at Newcastle University for three years working on clinical trials such as BIOFLARE, APIPPRA and MEDALLION. She is now undertaking her PhD at Newcastle supervised by Dr Amy Anderson, Dr Arthur Pratt and Professor John Isaacs in Newcastle, and by Dr Helen McGettrick, Professor Dagmar Scheel-Toellner and Dr Andrew Filer at the University of Birmingham.

Imogen will be investigating the functional consequences of B cell interactions with synovial fibroblasts in rheumatoid arthritis and whether CD97 expression on certain B cell subsets plays a role in this process. She will undertake the first year of her PhD at the University of Birmingham looking more specifically at B cell migration before carrying out the rest of her PhD at Newcastle University.
RACE-Affiliated Students
Annie Hackland

RACE-affiliated student since 2021

Project title: Identifying the cellular drivers of treatment refractory rheumatoid arthritis

‌‌
Annie graduated from the University of Glasgow in Immunology (MSci) with Placement Year in 2020. During her industrial placement year, she worked in the Adaptive Immunity Research Unit at GSK, identifying downstream signatures of myeloid cell signalling. After a year working in Covid testing, Annie joined the Croft lab at the Rheumatology Research Group in the University of Birmingham in 2021 to undertake a Versus Arthritis-funded PhD project. Her project aims to investigate whether treatment refractory disease results from epigenetically alterations in THY1+CD34+ synovial fibroblasts which leave them unable to respond to negative regulation by MerTK+ macrophages in the joint, thus leading to disruption of joint homeostasis and persistent inflammation.

Jack Frew

RACE-affiliated student since 2021

Project title: Identifying therapeutic targets that could transform Rheumatoid Arthritis from disease remission into cure.

‌‌

Jack graduated from the University of Glasgow in 2021 with a BSc (Hons) degree in Immunology. Jack is primarily supervised by Mariola Kurowska-Stolarska in the Institute of Infection, Immunity & Inflammation at the University of Glasgow, with secondary supervisors Vivianne Malmstrom (Karolinska Institute), Thomas Otto (University of Glasgow), and Stefano Alivernini (Gemelli University Hospital).

Jack's PhD will primarily focus on classifying the interactions of distinct synovial tissue dendritic cell (DC) clusters with autologous T-cells in the healthy joint and in RA joints in disease remission. He will utilise wet-lab, and bioinformatic approaches, to identify the differences between DC driven self-maintained immune homeostasis of Healthy tissue and fragile immune homeostasis of remission. This will help to uncover the pathways where therapeutic targeting might transform remission into healthy immune homeostasis.

Furthermore, Jack aims to identify what drives the differentiation of distinct synovial tissue DC clusters, and how these mechanisms change across disease states. Jack will design experiments to test whether fibroblasts from different disease states direct the differentiation and function of these DC clusters, and how these mechanisms may be targeted to restore tolerance in rheumatoid arthritis.