Community Engagement
RACE have an active and diverse public engagement programme that runs alongside our Scientific work. Our audience range is wide, ranging from nursery school children to adult events at the Glasgow Science Centre. We also aim to work with patient groups too, with a number of our scientific investigators leading talks and discussions at local national rheumatoid arthritis society (NRAS) meetings.
NIHR Newcastle Biomedical Research Centre - working with patients and public
This film describes Newcastle University's Patient and Public Involvement in Musculoskeletal Services (PIMS) group and how involvement from patients and the public is so vital in shaping research focus for the NIHR Newcastle Biomedical Research Centre and other research projects, including RACE, at Newcastle upon Tyne Hospitals NHS Foundation Trust and Newcastle University.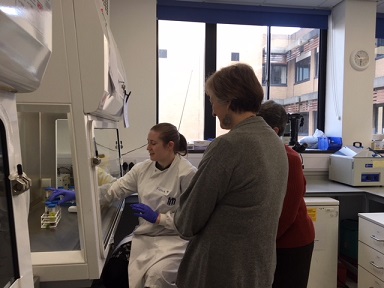 A chance to see inside a Newcastle science laboratory at the cutting edge of arthritis research
Engagement Resources
We've created a range of posters and leaflets on our activities - download them here:
Upcoming events
Glasgow Science Centre Lates
The Glasgow Science Centre will be running a series of evening events for adults and Rheumatopshere will be taking part in the 'Taste' session on Friday 1 June and the 'Move' session on Friday 3 August 2018.
TASTE
On Friday 1 June, Rheumatosphere will be making science tasty with our cell biscuit and cell media cocktail workshop.
Our workshop will start with a short talk about rheumatoid arthritis, what this disease is, what effect this has on the joints, what are the co-morbidities associated with the disease and how we can currently treat this disease.
We will then think about some of the immune cells involved, and how they are misbehaving in disease. Our first activity will be to make tasty immune cell biscuits and learn what's inside the cell.
The workshop will then go on to explore how we look at these cells in the lab and how our experiments can give us important information about how to treat this disease. We will focus on how we can keep cells alive in the lab by making cell media cocktails. There will be time at the end to drink the cocktails and chat to our clinicians and scientist.