Friendly Fire: how the immune system goes off target and causes autoimmune disease
Meet the Expert: Glasgow Science Centre May Bank Holiday Weekend 2014.
A group of scientists from Glasgow University's Institute of Infection, Immunology and Inflammation brought glitter and stickers to the Glasgow Science Centre. While getting glitter everywhere – the scientists explained what the immune system is for and how, sometimes, it can go "off target" causing autoimmune diseases like rheumatoid arthritis.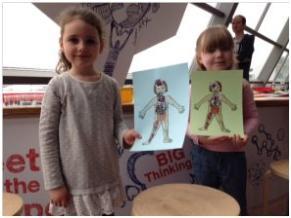 Children visiting the science centre placed bug stickers on to a picture of a boy called James. They helped the immune system to "target" the bugs with some glue; the immune system (the brightly coloured glitter) then found and destroyed the bugs. Mostly the immune system was on target, just sticking to the bugs. But sometimes we had glitter everywhere and the potential for damage to James's tissues.
The Meet the Expert event at the Glasgow Science Centre runs most holiday weekends. Providing a perfect opportunity for scientists to engage with the public's interest in science and, in turn, for scientists to learn how to communicate their excitement about their research to the public.

Arthritis Research UK supports both clinical and basic research with the commnon goal of finding better ways to treat people with rheumatoid arthritis, a chronic autoimmune disease that causes painful and persistent swelling at the body's joints
---
First published: 4 June 2014