Rheumatoid arthritis research centre opening – 6 June 2014
Published: 6 June 2014
A major new research centre for arthritis has been officially opened by Olympic gold-winning rower Katherine Grainger
A major new research centre for arthritis has been officially opened by Olympic gold-winning rower Katherine Grainger.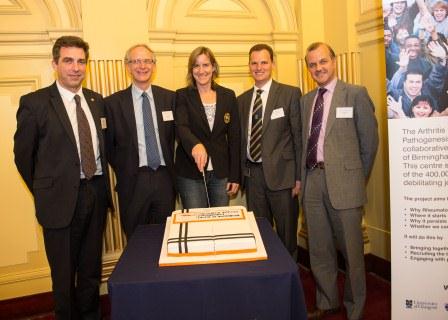 Katherine Grainger cuts the cake flanked by Dr Stephen Simpson of Arthritis Research UK, Prof Chris Buckley of University of Birmingham, Prof Iain McInnes of the University of Glasgow and Prof John Issacs of University of Newcastle‌
The £2.5m Arthritis Research UK Rheumatoid Arthritis Pathogenesis Centre of Excellence (RACE) is a collaboration between the universities of Glasgow, Newcastle and Birmingham. The three participating centres are committing an additional £4m in financial support over five years.
The centre aims to find out more about the causes of rheumatoid arthritis, a serious, inflammatory, auto-immune condition that affects the joints and the body's internal organs leading to chronic pain and fatigue.
The launch saw an audience of arthritis patients invited to afternoon tea hosted by sports journalist Alison Walker to hear more about the research being carried out into the condition and how the new centre will lead to better treatments. They were also entertained by the High School of Glasgow Choir.
Professor Iain McInnes, Director of the Institute of Infection, Inflammation and Immunity at the University of Glasgow, will lead the new centre.
He said: "This new centre aims to address the unmet needs of more than 400,000 people in the UK who suffer from the crippling condition of rheumatoid arthritis. It will help us learn more about the mechanisms behind this disease and how we can use this knowledge to develop more effective treatments, and maybe even one day a cure.
"What we hope this new centre will enable us to do is to take a much more personalised approach to rheumatoid arthritis, so that patients can benefit from treatments more attuned to their own experience of the condition and their own physiology.
"While much of the research will be laboratory-based basic science, the ultimate aim of the centre will be to develop new therapies that will provide patients with specific treatment that will work best for them early in the course of their disease, without the need to try and array of different drugs."
Rheumatoid arthritis occurs when the body's immune system attacks itself. Although drug treatments have considerably improved in the past 20 years they are not effective in all patients.
Researchers at the new centre will investigate the underlying causes of rheumatoid arthritis. They will focus on the mechanisms of auto-immunity that cause rheumatoid arthritis to start, and why it doesn't stop. This results in chronic inflammation in the joints which cannot be suppressed in at least a third of patients, despite treatment with modern biological therapies.
The centre will be driven by collaborative partnerships by bringing together three world-class institutes with a track record of joint working, with each university bringing expertise in different fields and access to large groups of patients.
Professor Alan Silman, medical director of medical research charity Arthritis Research UK said: "Although the treatment of rheumatoid arthritis has improved enormously in the past 20 years with the advent of new cutting new drug therapies, our goal now is to be able to personalise and target treatment to individuals.
"As a charity that relies on the support of the public to fund research, bringing together world-recognised research groups in three universities in this unique way, with a multi-pronged attack on this potentially devastating disease, is very much aimed at making a difference to the lives of people with arthritis. We are very excited that this new centre can bring us closer to finding a cure."
John Isaacs, professor of clinical rheumatology at Newcastle University's Institute of Cellular Medicine, said: "This is a fantastic opportunity to develop a deeper understanding of the causes of rheumatoid arthritis, leading to new and better treatments. The fusion of our three Units into this exciting Centre will bring together complementary skill sets and expertise, focussed on solving the enigma that is rheumatoid arthritis."
Chris Buckley, Arthritis Research UK professor of rheumatology at the University of Birmingham added: "Understanding what causes rheumatoid arthritis, where it starts and why the inflammation associated with the disease does not go away are really key questions that no one group can address on its one. Combining the expertise of basic and clinical scientists across the three Universities will not only deliver answers to these questions quicker but help train and encourage future researchers to work in a more collaborative and multidisciplinary way."
---
First published: 6 June 2014